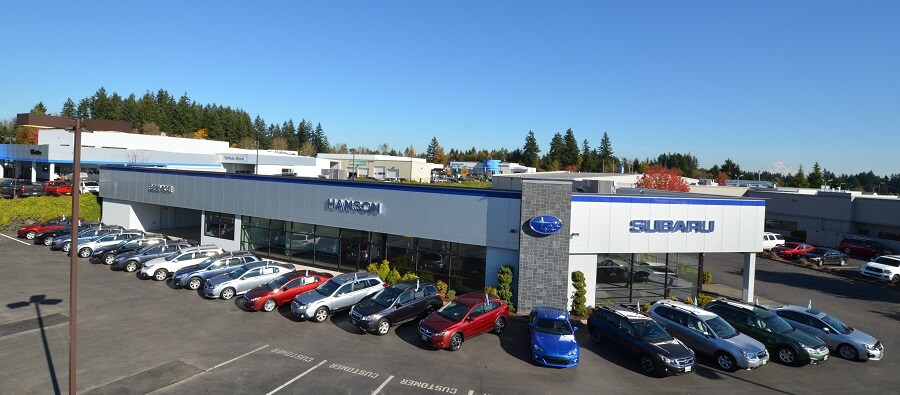 Meet the Hansons of Hanson Subaru
By Craig Chastain - Puget Sound Dealer Magazine
Ask Steve Hanson, a man who has represented some of the world's great automakers, about his first car. He'll tell you with a smile it was a Chevrolet. "A 1932 Chevy sedan with push-and-pray brakes," he says. "I was 13 when I got it - that car and I grew up together." Growing up on a working dairy farm in Washington's Skagit Valley, Steve was fixing up and driving cars, trucks and tractors at an early age. He gave a brief thought to an engineering career after high school, but discovered early on that his first love was cars. "I learned the business from the ground up at McDowell Volkswagen," he says. "When we opened a store in Oak Harbor, I got involved with the entire operation - sales, service, marketing, everything - and the time came when I was ready for a dealership of my own."
By age 27, Steve had purchased his first dealership. He bought Brewington VW in 1974, renamed it Hanson VW, and launched a Northwest institution that has connected the region's car buyers with quality automobiles from both sides of the world. At Olympia's Auto Mall - their home since 1986 - Hanson Motors now showcases an international mix of world class vehicles including Volkswagen, Subaru and Kia. "The Auto Mall has been a great home for us," says Vince Hanson, Steve's son and the general manager of the dealership. "We're in the heart of a public sector economy, with all the state workers here in Olympia and Joint Base Lewis-McChord just north of us, so over the years we have seen fewer economic ups and downs."
Like his dad, Vince learned the business by doing everything - from lot boy to janitor - between high school classes and during summers away from studies at Central Washington University. He proudly holds the unique family distinction of helping build the Olympia store, literally from the ground up. "Vince was a "hod carrier' during construction of this building," says Steve. "He was part of the bricklaying team that built the walls and foundation for Hanson Motors."
Today, that foundation, built and maintained by father and son, supports one of the most successful and respected dealerships in the Northwest. With 60+ employees, a state-of-the-art service center, an expansive used car inventory and three of the industry's top brands. Hanson Motors is a standout at the Auto Mall and beyond. Their experience and instincts have served them well as they partner with German, Japanese and Korean manufacturers. "Each carmaker - Volkswagen, Subaru and Kia - has their own culture and ways of doing business," says Vince. "The one thing they have in common is the quality of their product. We've visited their factories and seen their commitment to making world-class vehicles."
Like the cars they sell, the Hanson team works diligently to build and maintain the Hanson "brand." Their marketing uses the new technologies of the Internet along with more traditional but still effective print and broadcast advertising. A drive through the Auto Mall demonstrates that they, along with their neighbors, still use many of the classic dealership tools from balloons to banners - that have always worked in the car business. A vital part of their marketing is their focus on the region's large military population. For the Hansons, "support our troops" also means giving them a great deal. "We market extensively to Lewis-McChord," says Vince. "We've always believed our military families deserve special attention and consideration."
That focus on exceptional service extends to the work done by the Hanson team in their community. Their current focus is on the needs of seniors, from providing vehicles for the Meals on Wheels program to spearheading food drives and other outreach projects. Steve describes their commitment on the company website: "At this time of great need, Hanson Motors is proud to extend their support to those who gave so much throughout their lives and careers." Community service, along with a shared commitment to excellence, helps keep the Hanson team a "family" of loyal and committed colleagues. Their current office manager, Rozanne Nurmi, has been with the team for 39 years and is currently training Steve's daughter, Kim, to transition into that position. It's too early to predict whether Vince's two children - Britannia and Ryan - will carry the Hanson tradition to a third generation.
Family traditions extend to those rare and precious times away from the showroom. Steve, Vince and now Ryan share a love of fishing and spend time together each season on waterways in Alaska and around the state. Steve has been "retired" since 2005 but is still a strong presence at the dealership. "I come in most every day to stay connected and pick up my mail," he says. "When I'm not here I'm usually at our warehouse working on a car." Indeed, the man who fixed up and drove his first car at 13 maintains that passion today. Steve's collection of classic cars - including a stunning 1932 Ford Phaeton - has been seen and honored at car shows throughout the West. Most importantly, he drives each vehicle to each event. "If it's on a trailer, it must be broke," he says firmly. "Cars were made to be driven."
Today, after five decades in the automobile business, the Hanson passion for cars can be felt in every corner of the dealership. "We've learned the business is cyclical," says Vince, "but we believe the future looks great for our business and we have fun doing what we do. We've got some of the world's best cars and a market that's looking for quality and value." Northwest car buyers will find both - along with a tradition of excellence - under the Hanson sign at Olympia's Auto Mall.
Subaru Sales, Service and Parts at Hanson Subaru Near Tumwater, WA
Hanson Subaru is proud to be the premiere Subaru dealer in the Olympia area. For years, Hanson Subaru has delivered quality and value to drivers in Olympia, Lacey, Hawks Prairie, and Tenino, WA and we're pleased to continue this same tradition, year after year. Whether you're on the market for a new Subaru, a quality pre-owned vehicle, Genuine Subaru parts and accessories or require service on your vehicle, call us at (888) 490-9863 or come see us at 2300 Carriage Loop SW, Olympia, WA 98502. Our courteous and professional staff will be delighted to assist you, no matter what your needs are. We look forward to serving you at Hanson Subaru!