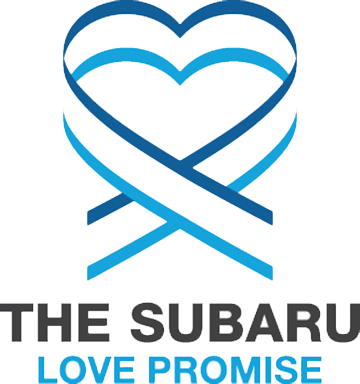 What is the Subaru Love Promise?
Subaru and our retailers believe in making the world a better place and the Subaru Love Promise is our vision of respecting all people. This is our commitment to show love and respect to our customers and to work to make a positive impact in the world.
How is Hanson Subaru dedicated locally to the Love Promise?
Hanson Subaru has a 44 year history of supporting the South Sound community through multiple avenues. We have supported Saint Martin's University Athletics Program for thirty years, as well as supporting their Scholarship Program for the past twelve. In addition, Hanson Subaru has been a primary supporter of Senior Services of South Sound with, Senior Outreach, Senior Meals on Wheels and Senior Food Bank Programs. Annually, we have increased our donation base and collection efforts to the point of over 9000 pounds of food were donated and delivered in 2018. Hanson Subaru loves working with our local partners to make the community better as a whole.
St Martins University, St Martins Alumni Association
Senior Services of South Sound, Senior Action Network, Meals on Wheels, Senior Outreach, Senior Food Bank
Love Promise Stories from Hanson Subaru
Subaru and Hanson Subaru believe in making a positive impact on the communities in which we live and work. We uphold that belief through our Love Promise Community Commitment. Every month, we select inspiring stories from customers and partners from around our area who strive to support our collective commitment and feature them here
Hanson Subaru Helps Feed Seniors - Katie R
On behalf of Senior Services for South Sound, we want to give a big thank you to our single largest, non-federal support of our Meals on Wheels program, Hanson Subaru. Their generous contributions have made it possible for us to continue meeting the increased demand and high need for Meals on Wheels in Thurston and Mason Counties. "With Hanson Subaru's most recent donation, we will be able to make over 4,000 meals in our kitchens, which will provide over 632 seniors with tasty and nutritious meals for a week. That is a lot of hungry seniors, getting fed!" - Food Service Manager, Rob Spinks. We remain abundantly grateful for Hanson Subaru's consistent dedication to our mission to improve the quality of life for people as they age. Thank you for helping us make a meaningful difference in the lives of our seniors.
---
Helping local homeless - Tanya F
The amazing team at Hanson Subaru in Olympia, Washington went above and beyond supporting our team in the fight against homelessness. Rob and his team graciously donated waterproof blankets in the middle of the winter to help support those living on the streets. Along with this amazing donation they also returned with some lovely Christmas gifts for the children living in the family homeless shelter. Often we have over 15 children under the age of 18 living in our homeless shelter, being able to have them feel like normal children during the holiday season is amazing. We are truly thankful to the team of Hanson Subaru for sharing the love.
---
Hanson Subaru Shares the Love with Seniors - Katie R
As we approach the one year mark of battling the challenges COVID-19 has placed on our community, we take a moment to reflect on the people, places, and moments we are most grateful for. Our valued partners and local Subaru Retailer, Hanson Subaru, are some of the people we have been most appreciative to be connected to during this challenging time. Through 2020 and into 2021, Hanson Subaru has continued to champion their philanthropic efforts by demonstrating a great amount of loyalty, compassion, and commitment to Senior Services for South Sound and our Senior Nutrition Program. For 45 years, Hanson Subaru has dedicated themselves to helping our local community through food drives to create Blizzard Bags for homebound seniors, donations of blankets and crafts for cancer patients at Providence St. Peters Hospital, collection of school supplies, E-waste recycling events and more. Due to the necessary precautions that we have adopted to keep our community safe, our annual Blizzard Bags event with Hanson Subaru did not take place, however, our impactful partnership with them continues in new and safe ways. At the end of last year, Vince, Rob, and Frank, of Hanson Subaru, stopped by the Olympia Senior Center to give a generous donation to Senior Services. This impactful gift from Hanson Subaru allowed us to provide 1,024 meals to seniors struggling to provide food for themselves. We are filled with gratitude for this tremendous gift, and extremely honored to continue our philanthropic partnership with Hanson Subaru. Due to the ongoing pandemic, our meal production, and the need for home delivered meals has rapidly increased, with the number of clients we serve, more than doubling. At the closing of 2020, our nutrition program had prepared, packaged and delivered over 130,000 total meals to seniors in our community. The ongoing need for support for our Meals on Wheels program is immense, and we are deeply appreciative for the significant role Hanson Subaru has played in allowing us to continue serving a vulnerable population. "Hungry and isolated seniors are at a higher risk for mental illness and malnourishment. One of our newest clients is no longer able to safely cook meals for herself due to her failing eyesight. Without family in the area to check in on her, she's at high risk to go without proper nutrition and suffer the detrimental effects of isolation. We have every hope that with a weekly visit and meal delivery from our friendly volunteer drivers, our new client will have someone to check in on her, and combat the isolation that so many of our seniors are facing. It's because of generous folks like the team at Hanson Subaru, that we're able to continue providing a high level of care to our most vulnerable population." says Stephanie Penland, Assistant Director of Senior Nutrition Program. Hanson Subaru's ongoing support, year round through monetary donations, awareness of our programs and services, and volunteered hours is invaluable. Each year, their team demonstrates their commitment to our mission and community. Thank you, Hanson Subaru, for all that you do to vitalize a healthy and safe community.
---
Hanson Subaru and the Subaru loves pets event - Heather L
Located in Washington State, Joint Animal Services (JAS) is Thurston County's primary regional animal shelter and animal control agency. Established in 1977, the cities of Lacey, Olympia, Tumwater and unincorporated Thurston County fund Joint Animal Services (JAS). JAS serves 286,419residents in 774 square miles of urban and rural terrain. Thanks to Hanson Subaru and the #subarulovespets event, Joint Animal Services adopted out 138 pets in October. This was our second highest adoption month of the year, and the BEST adoption month since the beginning of COVID back in March. A HUGE thank you needs to go out to Hanson Subaru, who sent a photographer over to take photos of all of our adoptable pets. Every single pet with their professional photo posted on the website was adopted the first week! Again, thank you to Hanson Subaru, your contribution to Joint Animal Services will help the lives of homeless pets in Thurston County!
---
A couple in need of Meals on Wheels - Eileen M
I was so thankful to Hanson Subaru and Subaru Share the Love when I read a report from our Meals on Wheel Assessor of a recent husband and wife in desperate need of Meals on Wheels: When Stephanie arrived, the couple were sitting in a darkened room. The wife had been doing most of the cooking in spite of her memory loss. Meals were getting simpler and simpler as her confusion increased. Her husband who is wheelchair bound due to MS, tried to coach her and remind her of what was on the stove but he had never been a cook. They have been married for 64 years and want to stay in their home together for as long as possible. The husband's doctor was very concerned over his nutrition and his failing health so he had his nurse make the referral. They were both amazed that they could get home delivered meals and that they were so delicious. Thank you Hanson Subaru for helping to make it possible for us to continue serving home bound seniors in need. You make a huge difference in our community. Since we have been receiving help from Share the Love, we have not had to have a waiting list for meals on wheels. Bless you all! When this couple needed meals on wheels we were able to start bringing them warm nutritious meals the next day! Eileen McKenzieSullivan Executive Director, Senior Services for South Sound
---
Hanson Subaru Brings Comfort to Cancer Patients - Katie J
Hanson Subaru is a very philanthropic dealership and they are champions of giving back to their community. On Tuesday, June 25, 2019, Hanson Subaru partnered with the Leukemia & Lymphoma Society (LLS) to give 80 blankets and arts and crafts kits to cancer patients at Providence St. Peters Hospital. LLS exists to find cures for cancer and improve the quality of life of cancer patients and their families and Subaru helps LLS by donating critical research dollars to save more lives. This is the fourth year of this partnership and each year Providence St. Peters looks forward to receiving and handing out these beautiful, warm blankets to their patients. The arts and crafts kits are wonderful for their pediatric patients and the caregivers and family members visiting loved ones going through cancer treatment. These gifts are treasured by the patients as they are a welcome reprieve from the tolls cancer treatment takes on the body. Jessica Wolcott and Stacey Genzlinger from the Providence St. Peters Foundation greeted Rob Little, Sales Manager and Hubert Jeter, Service Director of Hanson Subaru and shared stories about how these blankets help cancer patients in many ways. Providence St. Peters is so thankful to be the recipients of these items again this year. Thank you for helping the Leukemia & Lymphoma Society fund local life-saving research to beat cancer and provide programs and services for patients in Olympia and beyond. Picture in photo (left to right): Hubert Jeter, Rob Little, Stacey Genzlinger, Jessica Wolcott
---
Hanson Subaru Supporting St. Peter Foundation - Frank K
On behalf of the Providence St. Peter Foundation, Thank you for your recent gift. We want you to know that your thoughtful donation of 83 blankets and 11 craft kits to our Greatest Need Fund is greatly appreciated. The community turns to Providence Ministries for many needs: from the birth of a new baby to the complex treatment of cancer, stroke, or heart disease. Gifts to Providence ST. Peter Foundation support vital technology, education, and innovative therapies. Since 1887, Providence has lived a mission to provide compassionate care to our community. We witness this every day in the emergency room, when our loved ones receive hospice services, and in many other ways. We could not provide award-winning care without the support of a kind and generous community. Your support of the Providence St. Peter Foundation helps raise the level of care for everyone throughout our region. On behalf of the Foundation Board, I extend heartfelt appreciation for your contribution. Your gift makes a difference to many people throughout our community. Thank you for your generous and meaningful support. Sincerely Peter Brennan Executive Director
---
Hanson Subaru Loves To Care For Cancer Patients - Katie J
On July 16th, Hanson Subaru partnered with the Leukemia & Lymphoma Society for the third consecutive year to deliver blankets and arts and crafts kits to the patients and kids experiencing cancer at Providence St. Peter Hospital in Olympia. Patients will receive a beautiful blanket and hand-written message of hope from customers at Hanson Subaru as well as arts and crafts kits for kids. The Leukemia & Lymphoma Society exists to find cures for cancer and improve the quality of life of cancer patients and their families and Subaru helps LLS by donating critical research dollars. Thank you again for your care and compassion for the patients at Providence St. Peter Hospital; and for helping the Leukemia & Lymphoma Society fund local life-saving research to beat cancer and provide programs and services for patients in Olympia and beyond.
---
Hanson Subaru Shares the Love on June 27th - Anne G
On Tuesday morning, June 27th, Rob Little of Hanson Subaru arrived at the main entrance of Providence St. Peter's Hospital with a car load full of boxes of individually wrapped Subaru Loves to Care blankets for cancer patients and craft kits for children at the hospital. This was the second year in a row that Hanson Subaru has participated in the Share the Love campaign in partnership with the local chapter of the Leukemia & Lymphoma Society which serves Washington and Alaska. Its mission is to cure leukemia, lymphoma, Hodgkin Disease and Myeloma and improve the quality of life of patients and their families. Hanson Subaru helped advance that mission by providing high-quality, cozy blankets for 80 patients. Peter Brennan, Executive Director of the Providence St. Peter Foundation noted that cancer patients have a lovely outdoor patio they can visit to get some fresh air during their hospital stay and these blankets will help patients stay comfortable in cool temperatures and are a thoughtful gift that patients can take home with them when they're discharged. Additionally, he noted that the 20 craft kits Hanson Subaru provided will be a welcome gift that the hospital can distribute to children who are visiting loved ones at the hospital. Pictured here are: Anne Gillingham from LLS, Peter Brennan of Providence St. Peter's, Rob Little from Hanson Subaru and Jessica Wolcott of Providence St. Peter's.
---
Subaru Helps Deliver Meals! - Jolene B
For almost a decade the Hanson Subaru team has been supporting the Senior Nutrition Program at Senior Services for South Sound. Oct - Dec each year Hanson Subaru holds a food drive to support Blizzard Bags that are delivered to homebound seniors in Thurston and Mason County. "When we started the food drive, we were able to deliver about 100 bags to our seniors, now we are able to deliver over 350 bags of emergency food rations to homebound seniors, and support our Senior Food Bank for most of the year through the food that is raised during the Share the Love Food Drive at Hanson Subaru." Cathy Visser, SNP Director shared. Beyond the Food Drive, the Hanson Subaru team has picked Senior Services as their Hometown Charity. "By choosing us as a Hometown Charity, Hanson is not only supporting our cause monetarily, but also drawing awareness to the needs of seniors in our community. Each year we are able to deliver over 110,000 meals to seniors in our community because of the support that is provided through Share the Love." Cathy continued. The Hanson Team also makes time to come and serve lunch at our centers, and helps to put together the Blizzard Bags for delivery. "They are coming and serving for multiple hours out of their day to support seniors." Eileen McKenzieSullivan, Ex Dir said. "They are supporting us all year, in all the ways that you can give—monetary, raising awareness, and by volunteering in person-- and we are grateful for their ongoing support."
---
Black Hills High School Trade Show - Carson H
On May 20th Hanson Subaru helped me set up a trade show booth for a school project . I got to interview the owner of the dealership and learn about the car industry. With the help of Hanson Subaru bringing in a Tent, 2016 Subaru Outback, brochures and stuff to give away they made my project a huge success. Thanks Hanson Subaru Carson 9th grader at Black Hills High School
---
2016 Senior Services of South Sound - Jolene B
It has been eight years since Vince Hanson started helping with our Annual Food Drive to provide food for the Meals On Wheels client's at Senior Services for South Sound. This not only supports the Senior Meals on Wheels program but also the Senior Outreach and the Senior Food Bank of Thurston County. All of these programs are vital safety nets to support Seniors and their ability to stay healthy and survive. "The first year we brought one van load of food," Vince remembered, "This year we had to rent a box truck to bring all the food". Vince and his team brought all that food into the Olympia Senior Center on a very rainy afternoon this December. "They were all drenched!" Cathy Visser, Senior Nutrition Director, recalled. "It was the most food we've seen for a food drive. The "Emergency Food Bags" wouldn't happen if it wasn't for Hanson Subaru and the Food Drive." Subaru of America, allows Hanson Subaru to choose one local charity and thankfully they chose to support us. I've seen some of our past clients receiving meals at the Senior Center, this is our opportunity to give back to them." Vince said about choosing Senior Services. This past year through the Share the Love Drive, Hanson Subaru was able to present at check to Senior Services for $33,500 representing donations made through the campaign. This year Hanson Subaru was one of our March for Meals Sponsors and assisted at the Olympia Senior Center during one of the March meal days to help serve a lunch.
---
Hanson Subaru Helping Save Butterflies - Rob L
Doing Our Part to Save the Butterflies! Did you know the monarch population in the United States has declined by more than 90 percent in recent years? For the month of April, Hanson Subaru is partnering with the National Wildlife Foundation for the Butterfly Heroes Program. Butterfly Heroes seeks to bring awareness to the declining population and connect our community of gardeners and kids, families, and schools alike to help the monarchs and other pollinators. Creating monarch and pollinator habitat is a wonderful opportunity for observing one of nature's most miraculous occurrences. The unique transformation the monarch butterfly undergoes during its life cycle from egg, caterpillar (larva), chrysalis to the delicate yet resilient butterfly is wonderfully intriguing for students and teachers alike. Hanson Subaru will have a butterfly habitat planter on site and be giving away seed kits. Stop in and check it out. We also encourage you to be a butterfly hero and grow your own butterfly habitat at home. It's a great activity for the kids or grandkids!
---
Subaru Loves/ Learning - Hanson S
Hanson Subaru was excited to support local communities in need, by collecting school supplies and funds during the month of August. Our focus was on local communities who have been hit hardest by the terrible fires that have plagued our state this year. Hanson Subaru was able to donate over $500.00 for school supplies through the Okanagan County Community Action Counsel. It is the hope of all who belong to the Hanson Subaru Family, that this assistance will in some small way lessen the burden on those hardest hit by this natural disaster.
---
Hanson Subaru Loves the Earth - Hanson S
During the month of April we had huge success with our E-Waste Recycling Event. We gathered Hundreds of pounds of electronics from around the community to be disposed of properly. We would like to thank the community for their efforts.
---
Community Champions Week - Jolene B
On March 16, 2015 we were excited to host Hason Subaru at the Olympia Senior Center as our first Community Champions of 2015. It was quite the kick-off. The Hanson Subaru Team of Vince Hanson, Rob Little and Frank Kersul helped serve lunch and milk to the seniors at the center. After serving, they weren't done though, they then presented a check to Senior Services for South Sound for $19,198 from Subaru of America, Inc. to help the Meals On Wheels Program at Senior Services for South Sound. This check will help provide over 2,700 meals to seniors in our community! Thank you Hanson Subaru and Subaru of America, Inc.
---
Senior Emergency Food Drive for Meals On Wheels - Jolene B
Each year between October and December Hanson Subaru collects food at their dealership for the Senior Emergency Food Drive for Meals On Wheels. The food collected through this food drive is delivered to home-bound seniors in Mason and Thurston County who receive Meals On Wheels. It is provided to them as emergency food rations in case they are not able to receive their normal meal delivery due to weather conditions. This is truly a safety net for over 250 seniors in this community. In 2015, we were completely blown away when Vince Hanson and the Hanson Subaru staff delivered over 1,000 pounds of food to our Olympia Senior Center for distribution. The staff not only brought in the food but stayed and helped package the food and helped deliver some of the packages to our home bound seniors. This is such an important part of our Meals On Wheels program that couldn't be completed without the Hanson Subaru Team. We are so grateful for the ongoing partnership we have with Hanson Subaru. Thank you Hanson Subaru Team!
---
March for Meals Thurston County Kickoff - Jolene B
This is the second year that Hanson Subaru has hosted the Thurston County March for Meals Kick Off. This event kicks off a month long promotion raising awareness about Meals On Wheels and Senior Hunger in our community. Hanson Subaru staff help serve cake, set up for the event, and attend the event. They really make us feel welcome in their facility and help promote awareness about our programs in the community. Thank you Hanson Subaru for giving us a great start for this monthly long advocacy event!
---
Hanson Subaru Raises Awareness for Senior Services - Hanson S
During the December 2014 Subaru Love Promise Event, Hanson Subaru in cooperation with Senior Services of South Sound worked diligently toward raising awareness for all the Services that are provided for seniors in the Olympia Area. Senior Services was awarded $15000 through the Love Promise Event and the generosity of Hanson Subaru Customers giving back to our community. These direct contributions allowed Senior Services to expand their Senior Meals on Wheels Program and their Senior Outreach Program to additional Seniors in need. This also contributed to the Senior Food Banks ability to increase the number of meals provided for local Seniors on a daily basis.
---